Biscuits & Greive
Once upon a time I attended college. This was 2011, a time before Instagram had taken control of the Internet, a time when the last theatre installment of the Harry Potter series was still fresh and the subsequent wounds were healing. I spent nearly 10 months living on campus at Bowling Green State University; during this time I met a group of people that have have special place in my life and memory. A few have actually become some of my best friends & life-allies. One of which goes by Elliot.
Elliot and I began talks of portraits back in early Winter of last year. At the time I was pumped to officially try out my new lighting equipment I had just purchased, however as weeks went by we decided to put it off until Spring when our busy schedules would hopefully cease and coincide with the nicer weather. It was just last week we had settled on early Saturday afternoon as the time & Bowling Green as the place for our rendezvous. Once Saturday morning came, I was getting ready for the day when Elliot gave a bit of bad news: one of the locations I wanted to shoot at, a coffee shop Grounds For Thought, was having an event all day & wouldn't be available until tomorrow. We decided to reschedule for the next day; as the week had gone on our schedules slowly became tighter but we both had all of Sunday free so it worked out well.
Early Sunday afternoon I jumped on 75 (mistake) towards BG on one of the summer's hottest days yet. 93°, sunny, and humid as could be. We got to work right away inside Elliot's apartment.
As I set up all of my gear, Elliot and his roommate played with their temporary furry friend. We were up and shooting within minutes, thanks to new tips I learned from the 3 books I'd read this past week.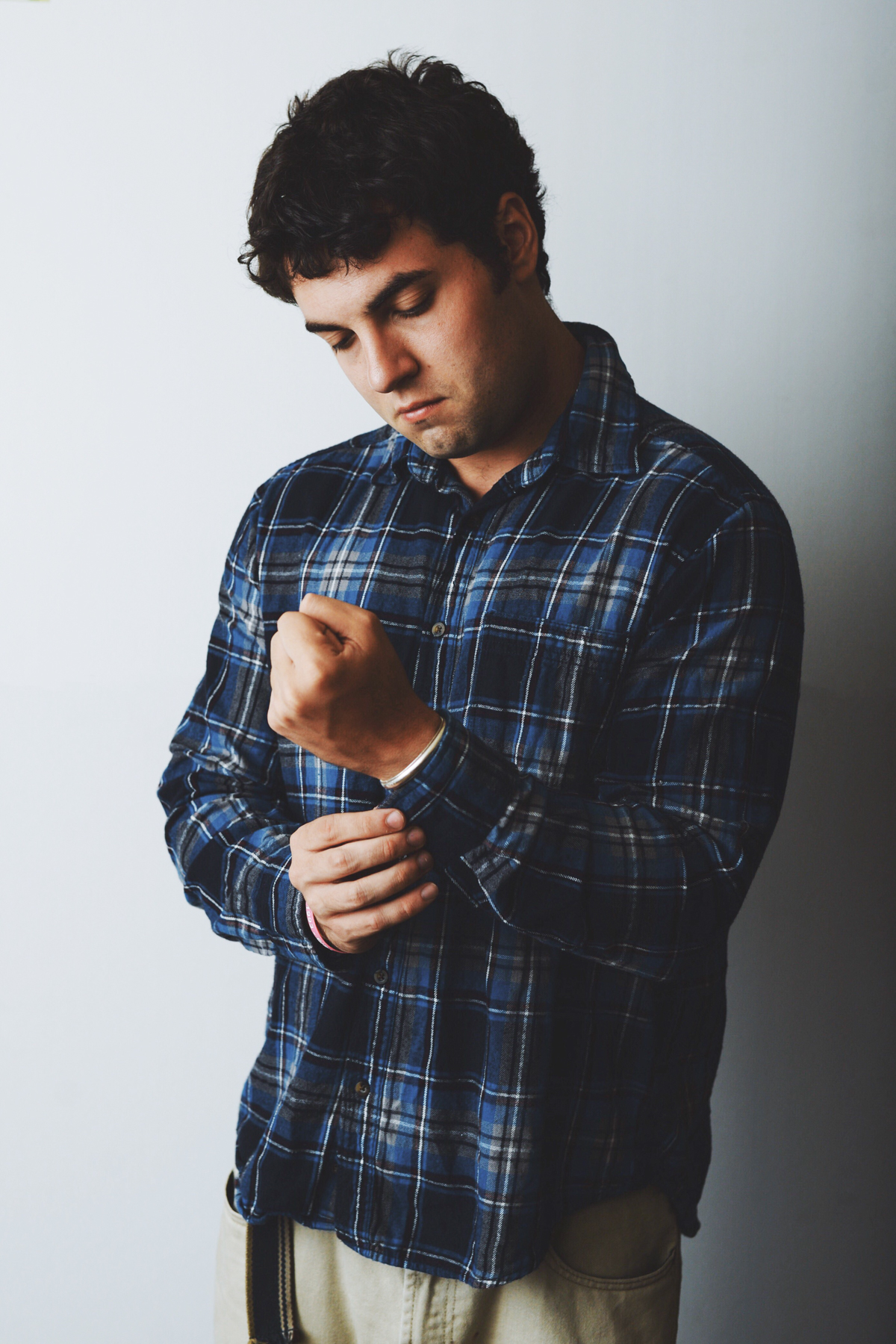 I wanted to keep my concepts relatively simple when shooting with Elliot. Incorporating Elliot's love for music and his guitars was the basis for the majority of the portraits. He's been a masterful guitarist since I've known him and continues to sharpen his musical abilities. He introduced me to his DIY studio that he's been building since last fall — a goal to start recording more artists while learning about the technical aspects, rather than just playing solo.
When we finished up at the apartment, we embraced the sweltering heat & drove downtown to Grounds For Thought. Unfortunately we discovered that there was a live band performing in the exact spot we needed to shoot. Luckily Elliot had caught eye of this awesome little alley just around the corner for us to shoot in. I'll be back for you soon, GFT. I will get that photo.
Once we were on campus I wanted to refrain from gravitating towards popular landmarks and recognizable places, in an obvious way. I still wanted to incorporate the campus but with subtle motives. I wanted the portraits to highlight Elliot's admiration for his Alumni status without making the photos more about the scenery and less about Elliot.
Out of all the times Elliot and I have spent together, we still have yet to jam with each other — at least with my preferred instrument of choice (drums). During my freshman year I had started to learn guitar and Elliot showed me a few basic chord structures and tried to help me not be terrible. Early on I recognized Elliot's passion for teaching and helping others grow: he now holds the title of Behavior Specialist at the Children's Resource Center in Bowling Green. His compassion and willingness to put others before himself are only two of his many outstanding qualities as a person.
We wrapped up our day by heading to the Student Union to peek inside for any great lighting opportunities (plus they had the air on—we were desperate). We poked around inside for awhile, chatting about our future goals and aspirations while also looking back on our time spent at BGSU. It was an absolute blast to see a good friend once again. Having friends that recognize your passions, helping you grow both personally and professionally is rare and refreshing. Until next time.